Theme: Blog
Hello!
Today is my in-store event in Kumamoto!
Yume Town Hikari no Mori
1PM & 4PM
Come to me with love
And today I have an urgent announcement!
It has been decided that a DVD of the Akasaka Blitz 2 Days lives that took place in August will be released.
TOSHI NET members pre-order reservations
Period: 2009, September 23rd ~ September 30th
Pre-order reservations start from today!
TOSHI with T-EARTH
SUMMER LIVE in AKASAKA BLITZ 2 DVD set
The recording of the new TOSHI with T-EARTH's live at Akasaka Blitz on August 13th, 2009!
Guitarist RYO, Bassist KAIN, Drummer RIKU – these new members came together and a powerful, heartfelt, impressionable live was recorded.
It is a deluxe edition that comes with a bonus movie.
HWTD-0002 ¥7,500(tax included)
And
TOSHI/TOSHI & WANKU
SUMMER LIVE in AKASAKA BLITZ 2 DVD set
The first TOSHI & WANKU concert to take place in Akasaka Blitz, on August 14th, 2009. TOSHI's hot shout and WANKU's faint whispery voice wove together and a healing live was recorded.
Please look forward to the soft heart warming harmony.
HWTD-0003 ¥7,500 (tax included)
Both of them will be released on November 25th.
Anyway, all the members of TOSHI NET!
Definitely get them!!!
Details are here
http://www.toshi-official.com/
And those of you who participated in that live, and those of you who could not participate,
Definitely come to the Christmas live on
December 19th at the Shinagawa Prince Stellar Ball!
Before that, be sure to check out the deep emotions and excitement in these DVDs!
Today is the last day of Silver Week.
What will everyone do?
I'm going to burn a fire
in the shape of an X?
at Hinokuni.
The picture is
From last night when I was moving from Saga to Kumamoto;
On the station's platform, it felt like my long ago Utatabi days!?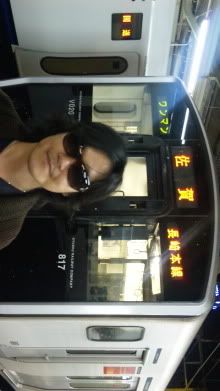 ------
Hinokuni is in reference to the Hinokuni Festival held in Kumamoto.
http://www.hinokunimatsuri.jp/