Theme: Blog

Yesterday I had an in-store event in Shinjuku.

At night, in Shibuya
I performed at a one year commemorative live event for a music studio my friend manages.
The other bands were quite cool.
I appeared together with
Sasurai Maker.

It was a hot live.


Today
I arrived at Nagoya Station sometime ago.
Now, I'm en route in a car.



I'm going to my friend's hospital in Chitagun; I'll have a mini concert inside the hospital at a live event.

The doctor of my friend who drives
Recommended that
I definitely do
"Human Doc."



Tonight


Is the
Handa concert.


Tomorrow
At 6PM
In Gunma prefecture, at the TSUTAYA Oizumi is my last in-store event for summer vacation.
Please come!


And September 11th is the day of the T-EARTH live at Osaka Nanba Hatch and is also the release date for the new single "Arigatou no Uta."
Pre-orders are open until September 10th.
Definitely listen to it!


The picture is from
Last night's live.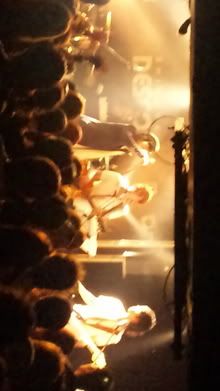 ------

Human Doc - http://ningen-dock.shooti.jp/index.html
It seems to be a network of hospitals, clinics, doctors, and good Samaritans to help those with any sort of ailment - physical or mental. A social supporting network of sorts perhaps - I don't really know. It also goes by "Human Dog."